What is teleconsultation and how does it work?
13
min. de leitura

One of the uses of telemedicine is teleconsultation, a medical consultation in which the patient is physically distant from the healthcare professional. This practice became popular around the world and was authorized in some countries where it was not yet permitted during the Covid-19 pandemic.
Initially, teleconsultation was used to address four main problems:
Help alleviate ER overcrowding;
Protect patients with mild symptoms or those seeking guidance, reducing the need to visit high-risk contamination emergency rooms.
Safeguard the health of doctors in high-risk groups, by allowing them to remotely monitor their patients;
Provide assistance to patients residing in remote areas with limited access to medical care
However, the challenges addressed by teleconsultation extended further, and the practice gained more prominence and advocates.
In this article, we will explain what teleconsultation is and how it works 𑁋apparently this is a practice that will remain even after the pandemic𑁋  what a medical clinic needs to perform this type of service, and the teleconsultation services offered by the Portal Telemedicine.
Read more: Digital health: What is it and what are its benefits?
Teleconsultation: The new possibility of interaction between doctors and patients
Teleconsultation is the possibility to conduct a medical consultation remotely, through secure online communication technologies, such as video conferencing or video call applications, utilizing computers, tablets or smartphones for this purpose. In general terms, teleconsultation can be done in the following ways:
Between doctors – when a general practitioner seeks assistance from a specialist, such as a second opinion on the diagnosis, a more indicated medication, or even live guidance when performing a procedure. The patient may or may not be present. This modality is called teleinterconsultation.
Between doctor and patient – directly, without the mediation of another doctor or healthcare professional;
Synchronous – the interaction is immediate or the response is provided in a short period of time. An example is the video consultation between doctor and patient;
Asynchronous – it takes place at different times and does not require direct interaction between the patient and the doctor.
Remote consultations can be for: first appointments, follow-ups, emergency or supervisory care (with the exchange of experiences among professionals), and cover everything from primary care and nursing to different medical specialties such as: radiology, dermatology, cardiology, neurology, pneumology, psychiatry, rehabilitation, ophthalmology and others.
Can teleconsultation be done via Whatsapp or Google Meet?
Teleconsultation is not just a traditional video call, as it involves the exchange of personal and confidential information, so it needs to be conducted through a suitable platform and in compliance with data protection law of each country.
Additionally, a telemedicine platform offers additional features to the doctor, such as the ability to send a valid digital prescription to any pharmacy, a feature for patients to attach exams results, in addition to the data integration for viewing the patient's medical history in its system.
Some tools also allow other resources, such as teleinterconsultation, meaning that if the healthcare professional wants a second opinion, they can contact another doctor, either in the same specialty or a different one, via video call.
Advantages of Teleconsultation
Among the advantages of teleconsultation, we can highlight the extension of medical service to patients located in geographically remote or mobility-challenged regions, and the increased precision of diagnoses – since cases can be discussed with various specialists, particularly in hospitals that do not have specialties such as cardiology and neurology in their medical staff.
During the Covid-19 pandemic, for example, teleconsultation facilitates patient access to pulmonologists and infectious disease specialists, since they can consult with professionals from any region of the country.
Other aspects that weigh in favor of teleconsultation are time and cost optimization, both for doctors and patients, as appointments do not require travel, and demands can be solved more quickly; and there is information security, since medical data, stored and distributed within the security and interoperability standards already defined by the country, have a much higher degree of privacy than physical medical records.
In short, we highlight the following benefits:
Distance reduction: access to specialist, even if the patient is in remote areas
More accurate diagnostics: doctors can get a second opinion and exchange knowledge with other specialists;
Agility in patient treatment;
Reduction of operating costs in clinics;
Information security: storage within the norms defined by country.
Will teleconsultation be allowed after the pandemic?
Telemedicine has made significant advancements in just one year with the onset of the Covid-19 pandemic, not only by facilitating teleconsultations but also by accelerating various technological processes within the healthcare sector.
In addition, it has broken cultural resistance to the teleconsultation process, among both patients and healthcare professionals.
In a survey conducted by the Brazilian Medical Association (AMB), 92.1% of the interviewed doctors think that teleconsultation will continue to be part of medical practice even after the pandemic. And more than half (59%) said they intend to use teleconsultation as a means of patient care even after this period.
A study by the Brazilian Association of Health Plans (Abramge) shows that about 90% of online consultations conducted during the first 12 months resolved the patient's problem. That is, a very small percentage of people who sought this form of care actually needed an in-person consultation.
In many cases, consultations were only for Covid-19 related information, such as guidance and monitoring; as well as for common issues such as a sore throat, a cold, and sometimes to pick up an updated prescription for a continuous-use medication.
Read more: Artificial Intelligence in healthcare: solutions, possibilities, trends
What is needed to conduct a teleconsultation
To perform a teleconsultation, the medical clinic needs a state-of-the-art system that ensures the security of data exchanged between healthcare professionals and between patients and doctors, in addition to the secure storage of this information.
When looking for a platform to implement in the clinic, it is also important to verify the experience of the company providing the service, if it is a leader in the field of innovation, and if it has a qualified medical team available for teleinterconsultations.
Portal Telemedicine provides services to assist doctors and companies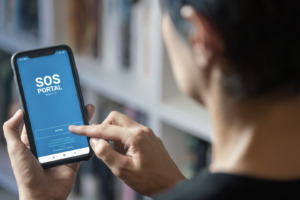 Portal Telemedicine offers the SOS Portal, a white-label platform that medical clinics, healthcare providers, and companies can use to provide care to their patients or employees through Portal's team of doctors.
Portal Telemedicine's platform for teleconsultation  is secure and efficient so that professionals can schedule their appointments online and assist patients ensuring data security through recorded teleconferences and the possibility to upload documents such as blood tests results, previous reports, among others, to assist in clinical interaction.
The tool also provides access to specialists in case the professional wants to consult with another professional for a second opinion. The platform can be used by professionals from other healthcare fields, such as psychologists and nutritionists.
In addition, the platform features cutting-edge technology capable of detecting the patient's vital signs, such as heart rate (BPM), heart rate variability (HRV), respiratory rate (RR), stress level and blood pressure (BP), through the cell phone camera.
Click here and talk to our team today.
Teleorientation for companies
During the Covid-19 pandemic, Portal Telemedicine also made available a teleorientation service aimed at companies and health insurance plans to provide support and assistance to workers or members during this period.
The aim of this application is to prevent patients with symptoms compatible with the new coronavirus and other pathologies, from having to seek emergency services for consultations when it is unnecessary.
In addition to protecting them, preventing them from being exposed to areas of greater risk of contamination, the service speeds up the consultation to a specialist if necessary, as patients can get a medical referral.
If during the teleorientation service the doctor identifies that the patient has symptoms compatible with Covid-19, he passes on guidelines and advises the individual to take a sick leave from work right away. In addition to providing agility to care, this service contributes to reducing the risk of the patient infecting other people who share the same work environment.
The teleorientation application available by Portal Telemedicine generates guides through digital signatures and certificates. The service operates 24/7, from Monday to Monday. It is available to health insurance plans and companies that are interested in enhancing the health protection of their employees. Companies or healthcare providers can use their own doctors to utilize the technology.
Teleinterconsultation services
Through its Advanced Online Medical Center, Portal Telemedicine also makes use of teleconsultation in cases of second opinions among health professionals. As a client of Portal, clinics and hospitals that do not have specialists in their clinical staff, have the possibility to seek guidance and exchange information with our specialists, such as cardiologists, radiologists, orthopedists and neurologists, available some hours a day from Monday to Monday. Additionally, they can obtain medical reports within a few hours of exams like: Spirometry, EEG, ECG, Tomography, X-Rays, Mammography, Visual Acuity and Magnetic Resonance Imaging.
Beyond medicine
Other healthcare professionals have specific regulations regarding teleconsultation:
Nursing – allows the issuing of remote medical prescriptions only in cases of emergency;
Speech therapy – permits remote medical assessment, but with a speech therapist present next to the patient;
Psychology – has regulated and detailed various modalities of remote psychological services, both in clinical and research aspects.
How Teleconsultation is been used around the world
The United States is quite advanced in the discussion of teleconsultation and the legislation allows for this type of service between doctor and patient. The states only regulate a few aspects.
A good American example is the CCHT program (Care Coordination and Home Telehealth) that provides remote care to the country's war veterans, and currently serves over 50 thousand patients. Through CCHT, patients and doctors interconnect via videoconferencing stations installed in various strategic location.
In Europe, the vast majority of countries have teleconsultation legislation. In 2010, China launched a pilot project called Ideal Life, with over 100,000 patients in Shandong province using interactive kiosks and remote monitoring devices. Canada uses teleconsultation through phone or internet for both rural and urban areas;  Mexico has allowed teleconsultation for patients living in rural areas since 2001, while Australia (since 1994) and  Japan (since 1997) have also adopted this form of consultation.
To learn more about telemedicine and technological innovation in patient care, keep on following Portal's blog updates. If you have any questions, feel free to contact us or talk to one of our agents.

Article translated by Celen Diaz
Graduated in Modern Languages ​​and Business Translation,
with more than 10 years of experience as a Linguist.
https://portaltelemedicina.com.br/wp-content/uploads/2023/09/Credito-Ricardo-Wolffenbuttel-26.jpg
1080
1619
Monica Jorge
https://portaltelemedicina.com.br/wp-content/uploads/2023/11/logo-portal-10-anos-grande-site.png
Monica Jorge
2023-09-18 14:05:40
2023-09-25 15:32:20
What is teleconsultation and how does it work?