Digital health: What is it and what are its benefits?
9
min. de leitura

Thinking about digital health initially brings to mind the replacement of the analog flow of information with digital environments. However, it is not just about swapping paper for computer files.
In this article you will gain an understanding of what digital health is, why it is crucial to promote it, the benefits of the solutions aimed at modernizing healthcare and the Brazilian scenario regarding the adoption of these technologies.
What is digital health?
The concept of digital health broadly encompasses all information and Communication Technology (ICT) resources utilized in the daily routines of health professionals and patients themselves. This includes, issuing remote reports with the support of digital platforms, maintaining electronic medical records, conducting teleconsultations with patients, integrating equipment and devices with softwares, integrating hospital,  clinics and healthcare facilities systems, patient self-monitoring, among others.
Since the beginning of the Covid-19 pandemic in 2019,the perspective on digital health has been evolving. Reflecting on this topic now entails an increasing consideration of global health-related issues and strategies to address them..
According to the World Health Organization (WHO), digital health can be defined as "the safe and cost-effective use of ICTs to support health and related fields, including service delivery, surveillance, literature, education, knowledge and research in the area".
Read also: Artificial Intelligence in healthcare: solutions, possibilities, trends
Why promote digital health?
For WHO, the application of technology and innovation in health already allows positive results all over the world. According to the organization, there is evidence of how digital health makes healthcare systems, both public and private, more efficient, more sustainable and also more responsive to what people expect and need.
However, there is still a long way to go when it comes to possible technological advancements, changes in user culture, and expansion of these technologies to all countries.
According to a survey by The Global Digital Health Observatory, only 58% of member countries have some form of digital health strategy in place. It is worth considering that the study dates back to 2016, a different scenario from what was imposed by the coronavirus pandemic.
Aiming to scale digital health globally, WHO has set three strategic goals for the years 2020-2025. These are:
Translate data, research and evidence into actions. That is, promote  interoperability standards and data sharing to implement digital solutions that contribute to information-based decision-making.
Skill up knowledge through scientific communities connected by new technologies, overcoming the limitations of physical meetings and publications in journals.
Identify and assess the needs of countries by proactively and systematically connecting these demands to innovation offerings.
Other benefits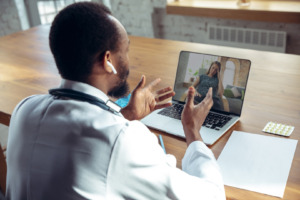 We have already seen that the promotion and encouragement of digital health practices bring several benefits to health systems in terms of efficiency, management and sustainability. These advantages extend to everyone involved in this ecosystem: doctors, nurses, technicians, public health managers and, of course, patients.
Convenience, in the case of teleconsultation solutions, for instance, is one of the most evident benefits. On one hand, it ensures resource savings for clinics, hospitals and healthcare facilities. On the other hand, it offers comfort and time saving for those looking for primary care that can be done remotely with the same safety and effectiveness as an in-person consultation.
The possibility of integrating systems, automating tasks and cross-referencing data and information is also a great advantage of digital health solutions. In the work routine of healthcare professionals, these integrations translate into the reduction of repetitive activities and, consequently, human error.
For health managers, especially in the field of public health, integrating systems and cross-referencing patient information stored in different databases means more efficiency and assertiveness in decision-making: better service delivery, increased agility, lower costs, lower recall rates, improved communication with providers, reduced physical files.
So far, we have addressed the most latent benefits of digitizing healthcare processes, however, the real asset of digital health that ensures a revolution for medicine as we know it, lies in Artificial Intelligence.
It is not about replacing doctors so that a robot takes over a surgical room. Currently, digital health solutions based on technologies such as AI, Machine Learning and Big Data, for instance, ensure faster and more accurate diagnoses, serving as a powerful support for the work of the doctor who evaluates each case.
What is the digital health scenario in Brazil?
Brazil follows the path of many countries that already had some digital health practices incorporated into their health systems since the early 21st century. However, after the Covid-19 pandemic, they must look at these solutions with the due attention they deserve.
In terms of regulation, there is still a long way to go. Telemedicine practices were released on an emergency basis on April 15, 2020, through Law No. 13,989,with the aim of keeping people in isolation and relieving clinics and hospitals.
According to a survey by the Brazilian Association of Health Plans (Abramge), more than 2.5 million teleconsultations took place between April 2020 and June 2021. Furthermore, 90% of these patients managed to  resolve their problems without having to leave home. Since then, the acceptance and adherence to telemedicine have grown significantly in the country, driven by a resurgence of teleconsultations with the arrival of the Omicron variant in Brazil.
Regarding the use of more advanced technologies in the field of digital health, Brazil also has companies performing important work with significant results.
Since 2019, Portal Telemedicine has been developing and improving an AI capable of identifying cancerous nodules in x-ray and CT scans. The solution supports doctors in making quicker and accurate decisions, ensuring early-stage disease diagnosis, which is essential to increase the chances of successful treatment.
Another application of the algorithms developed by Portal took place in public health in Tarumã, a city in the outskirts of São Paulo. The solution implemented in the city uses AI to accelerate the issuance of urgent cardiology exam reports.
To achieve the goal of ranking among the top 10 HDI (Human Development Index) cities in Brazil, the municipality government bet on telemedicine as a way to increase the longevity of the population. The city's healthcare system started issuing reports using Portal, and after a year, there was a 45% reduction in deaths in Tarumã caused by non-communicable chronic diseases.
In Portal's platform, exams such as the electrocardiogram (ECG) undergo screening by Artificial intelligence that measures urgency, and in severe cases, medical reports are returned by the cardiologist in a few minutes. In addition, nurses or on-call doctors can receive guidance from the specialist to stabilize the patient until he is sent to another care facility.
Read more about the use of AI to speed up urgent cardiological exam reports here

Article translated by Celen Diaz
Graduated in Modern Languages ​​and Business Translation,
with more than 10 years of experience as a Linguist.
https://portaltelemedicina.com.br/wp-content/uploads/2023/09/digital-health.jpg
1080
1803
Vinicius
https://portaltelemedicina.com.br/wp-content/uploads/2023/11/logo-portal-10-anos-grande-site.png
Vinicius
2023-09-13 16:48:19
2023-09-13 16:52:53
Digital health: What is it and what are its benefits?