3 ways telemedicine helps clinics to expand their capacity for patient care
5
min. de leitura
Telemedicine is a practice employing information technologies to enable healthcare professionals to conduct consultations swiftly and accurately. This approach helps clinics and hospitals expand their capacity for patient care by optimizing time through online consultations and remote report generation, among other benefits.
Furthermore, the application of technology in the healthcare field also facilitates the generation of more precise medical reports in less time. This is beneficial not only for healthcare institutions, as they can offer a higher quality service, but also for patients, who can start their treatment immediately after undergoing imaging examinations such as electrocardiograms (ECGs) and electroencephalograms (EEGs), for instance.
In this article, we delve into some compelling examples demonstrating how telemedicine can be implemented effectively in medical clinics and hospitals.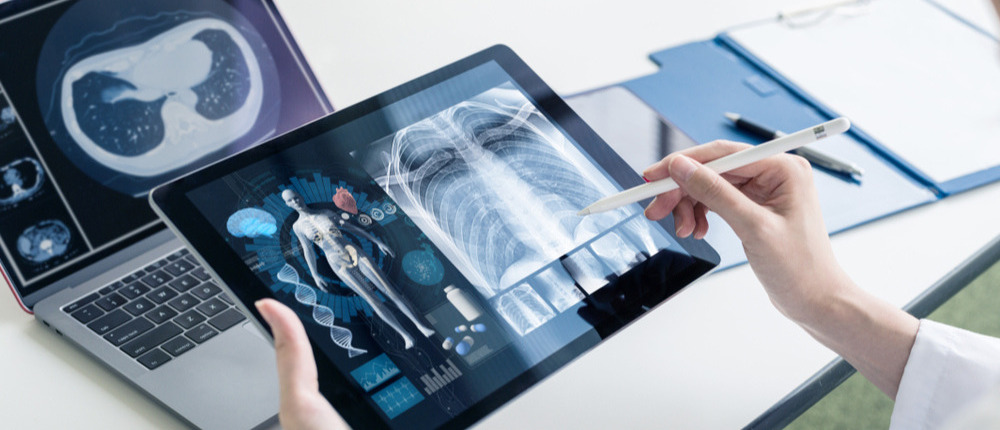 Expanding capacity for patient care
Below, we present 3 examples of how telemedicine enhances the service capacity of clinics and hospitals. Take a look:
Conducting online consultations
The ability to provide remote consultations ensures that more people have access to specialized doctors. It also allows clinics to expand their service capacity, transcending geographical boundaries. By replacing manual processes with automation and online consultations, productivity, time efficiency, and overall effectiveness are significantly enhanced.
The SOS Portal platform, developed by Portal Telemedicine, enables 24/7 online consultations. Using artificial intelligence, the application performs a triage and directs the patient to the appropriate specialist who conducts the online consultation directly through the platform. This entire process adheres to the General Data Protection Law, prioritizing patient information security.
With more professionals available for remote consultations, patient examinations are evaluated and reported more quickly, resulting in a more efficient and prompt response from the clinic. Reports can be generated on the same day or, in urgent cases, within a matter of minutes. This not only reduces costs, but also enhances the quality of services provided, potentially contributing to saving lives by swiftly directing patients to necessary treatments.
As a leading innovator, Portal Telemedicine offers an online reporting platform that utilizes algorithms and machine learning for emergency screening and assists doctors in detecting pathologies in diagnostic images.
The ability to generate reports remotely also represents a cost reduction, as the clinic can operate with a smaller in-house team and reduce the need for physical space to store examinations and reports. Additionally, it provides the option to lease diagnostic equipment instead of making substantial purchases.
Read more: How telemedicine the execution of ECG with reports
3. Expanding Specialties Covered
By utilizing telemedicine, clinics can expand the range of specialties they offer without the need to hire additional specialist doctors.Online consultations remove the necessity for specialists to be physically present in the clinic, significantly broadening the scope of services offered and benefiting patients in the region.
Clinics no longer require in-house specialists for report generation either. They can rely on trained healthcare professionals to conduct the examinations, which are then sent to the telemedicine platform and analyzed and reported by specialist doctors.
In other words, both teleconsultations and remote medical reporting allow clinics to broaden their range of specialties, further contributing to the universalization of the right to healthcare.
Conclusion
The three examples outlined represent just a few ways in which telemedicine empowers clinics to expand their service capacity, reduce costs, and operate with improved quality and efficiency in their daily activities. 
Through research and product development, integration with medical equipment, artificial intelligence, and data security. Portal Telemedicine provides a wide array of technology solutions tailored for clinics and hospitals seeking to modernize their services and invest in this growing trend in the healthcare industry.

Article translated by Celen Diaz
Graduated in Modern Languages ​​and Business Translation,
with more than 10 years of experience as a Linguist.
https://portaltelemedicina.com.br/wp-content/uploads/2023/11/capacidade-de-atendimento-1.jpg
563
1000
Monica Jorge
https://portaltelemedicina.com.br/wp-content/uploads/2023/11/logo-portal-10-anos-grande-site.png
Monica Jorge
2023-11-20 15:27:26
2023-11-20 15:29:08
3 ways telemedicine helps clinics to expand their capacity for patient care