Same-day Medical Reports: Get to know Portal Telemedicine's Solution
7
min. de leitura
Streamlining the report process in clinics and hospitals is an effort that reduces costs, enhances service quality, and can even save lives. With a network of more than 10,000 renowned doctors and a platform equipped with Artificial Intelligence, Portal Telemedicine guarantees same-day medical reports delivery for your healthcare facility.
In this article, you will get to know the online medical reporting solution from Portal and how telemedicine enables a much more efficient, agile, and secure diagnostic process in hospitals and clinics.
With our Doctors or Yours: Get Same-day Medical Reports with Portal's Platform.
By opting for  Portal Telemedicine's solution along with the service provided by our doctors, it is possible to speed up the diagnosis by up to 10 times. There are more than 10,000 professionals who are part of a team available 24/7 to issue reports of exams that arrive through the platform.
In addition, there is no need to worry about the transition of procedures adopted in your healthcare facility: our reporting platform integrates with all equipment and systems already used in the market.
If your clinic or hospital already has in-house specialists for the exams, it is also possible to opt only for the integrated reporting platform. With Portal's advanced technology, your team will have the support of artificial intelligence for emergency triage and pathology detection in imaging exams.
In both cases, Portal also offers training for professionals handling telemedicine procedures on a daily basis, from conducting exams to inputting data into the system.
Read more: Digital health: What is it and what are its benefits?
Portal's Platform Advantages:
Triage: patients' exams are presented to doctors in order of urgency, ensuring priority analysis for critical cases.
Same-day  medical reports: it is possible thanks to the user-friendly interface, integration across different equipment and systems, and the high availability of professionals. In addition, in cases of urgent findings during triage, reports can be delivered within as little as 5 minutes.
Security: Patient and healthcare facility data transfer and storage adhere to the world's strictest protocols: GDPR and HIPAA, in addition to being compliant with the General Data Protection Law (GDPL). The platform also features technical support and daily backups.
Batch printing: reports can be batch printed directly from the system, which also contributes to the overall process agility.
Documents accepted everywhere: reports, prescriptions, and other documents issued by the system come with digital signatures, protocol numbers, and watermarks.
The Path of Exams
From taking the exam to releasing the report, the telediagnosis process involves stages that reinforce security and optimize the doctors' work. Check out the simplified path taken by exams on Portal's platform in the infographic below: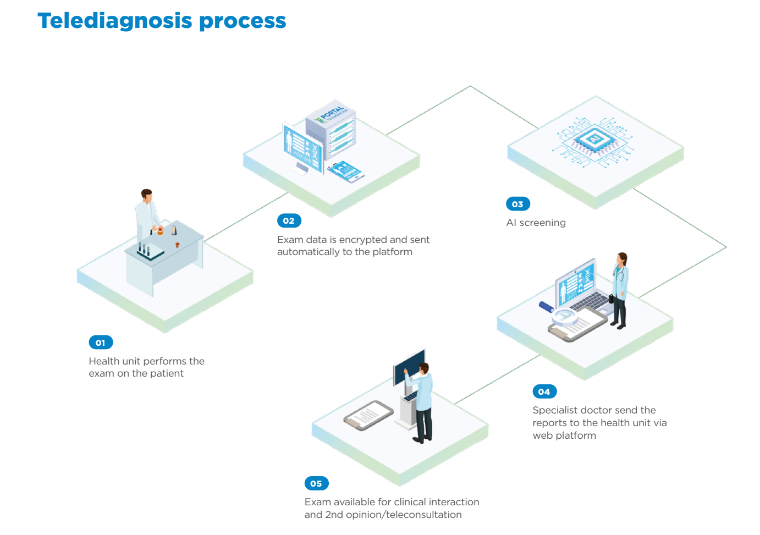 Innovation and Efficiency in your Healthcare Facility
The possibility of receiving your reports on the same day is just one of the advantages of bringing technological innovation into your clinic or hospital. Another major benefit of telemedicine lies in the drastic reduction of human errors in the diagnostic process.
The integration of medical systems and equipment allows nurses and technicians to conduct exams, reducing the need for manual data input and digitization. Innovation reduces the rework of doctors and other healthcare professionals, as well as patient recall rates.
With Portal's solution, even older and analog equipment can be integrated, sending exam data directly to the platform where the doctor will evaluate it, without requiring nurses to forward this information.
Opting for telemedicine reports saves your team time and increases productivity since many repetitive tasks are eliminated.
Another significant advantage is the opportunity to offer more specialties without necessarily increasing costs—or even reducing them. Hiring a telemedicine company to issue medical reports online ensures constant access to specialists—who are generally concentrated in large urban centers—and pay only for reports based on patient demand.
With Portal Telemedicine, you have access to the following specialties and exams:
Visual acuity
Campimetry
Bone densitometry
Dermatology
Electroencephalogram
Electroencephalogram with mapping
Spirometry
Holter Monitoring
Mammography
ABPM
Otorhinolaryngology
X-rays
Magnetic Resonance Imaging (MRI)
Ishihara test
Exercise Stress Test (Ergometry)
Computed Tomography (CT)
How Artificial Intelligence (AI) in Telemedicine Empowers Doctors and Enhances Work Efficiency
Now that you understand how our solution delivers same-day medical reports, let's delve into another initiative of Portal Telemedicine that is also linked to improving the work routine in clinics and hospitals: Artificial Intelligence.
AI modules are integrated into Portal's medical team's daily work for issuing reports and can also be utilized in cases where only the platform is contracted.
Through the triage performed by Artificial Intelligence, the platform identifies exams indicating abnormalities that require urgent evaluation, even in cases where the patient may not present clear symptoms of these alterations.
In addition, with the data deduplication module, it is possible to integrate different databases from the same healthcare facility to identify patient records that were duplicated, reducing errors and improving this data accuracy.
These are just two examples of how Artificial Intelligence facilitates the work of doctors and nurses, but this technology already has applications at all levels of healthcare: from scheduling appointments to identifying, monitoring, and treating serious illnesses.
Also, see how our solution applied in cardiologic exams helped the city of Tarumã, in SP, to reduce the rate of death from acute myocardial infarction by 45%.
Finally, it's important to note that a doctor's work cannot and will not be replaced by machines and algorithms. Technology serves as a powerful support to the clinical team, ensuring more autonomy, speed, and safety for healthcare professionals.
If you have any questions, feel free to contact us or talk to one of our agents.

Article translated by Celen Diaz
Graduated in Modern Languages ​​and Business Translation,
with more than 10 years of experience as a Linguist.
https://portaltelemedicina.com.br/wp-content/uploads/2023/10/shutterstock_1012911202.jpg
1080
1618
Monica Jorge
https://portaltelemedicina.com.br/wp-content/uploads/2023/11/logo-portal-10-anos-grande-site.png
Monica Jorge
2023-10-13 15:12:06
2023-10-13 15:12:06
Same-day Medical Reports: Get to know Portal Telemedicine's Solution