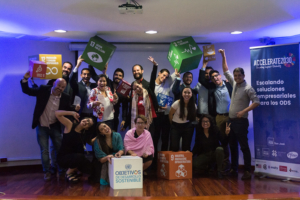 The United Nations and Impact Hub select Portal Telemedicina as a Global Impact Solution
5
min. de leitura
On September 17, 2019, Impact Hub and the United Nations Development Programme (UNDP) announced the international finalists of the Accelerate2030 program, a global initiative supporting high-impact enterprises aligned with the Sustainable Development Goals (SDGs). Following its top position in the national stage, Portal Telemedicine emerged as one of the ten global companies chosen for its potential impact and innovative solution to enhance global healthcare.
Selected among more than 1100 applicants, this edition of the program showcases a diverse group of impact-driven enterprises, spanning multiple SDGs, including innovative solutions for diagnostics, bioplastics made from olive seeds, and the use of artificial intelligence. Since 2016, the Accelerate2030 program has been implemented in 24 countries, covering 16 developing countries in this year's edition.
"The companies chosen for Accelerate2030 are developing innovative solutions for crucial Sustainable Development Goals. Innovations like these set the pace for addressing the world's most pressing challenges related to the environment, food security, clean water, and many other important significant challenges outlined by the SDGs," stated Artak Melkonyan, UNDP.
The ten finalists will participate in the global Accelerate2030 program, commencing from October 4th to 11th, 2019, in an intensive week of activities in Geneva, Switzerland. Support will be provided by UNDP, Impact Hub, International Trade Center, Pfizer, Amazon Web Services, UNAIDS, Boston Consulting Group, and other program partners. The Geneva week is part of the Bridge-Building Week, connecting businesses with key players in the sustainable finance sector.
Read more: Same-day Medical Reports: Get to know Portal Telemedicine's Solution
Get to know the 10 finalists of the International Accelerate2030:
For more information about the finalists, click here.
About Accelerate2030
Accelerate2030 is a global program co-initiated by Impact Hub and the United Nations Development Programme (UNDP), aimed at globally scaling up businesses in their growth phase and aligned with the Sustainable Development Goals (SDGs). The program, now in its third edition, operates in 24 emerging and developing economies across Africa, Asia, Latin America, and Eastern Europe, reaching 2 million people and involving over 1500 entrepreneurs and around 50 partners worldwide. During this period, the program has brought together numerous entrepreneurs, investors, UN agencies, multinational organizations, consultancies, local authorities, and other stakeholders around a common mission of addressing the SDGs through business solutions.
About Portal Telemedicine
Portal Telemedicina is an online medical center with a mission to save lives by ensuring universal access to medicine. Their award-winning platform connects clinics and hospitals to some of the best specialists in Brazil, who are able to remotely analyze and interpret real-time exams. Utilizing innovative technology that directly interfaces with medical devices through multiple communication protocols and the Internet of Things (IoT), information is sent directly from the equipment, pre-processed by artificial intelligence, and then analyzed by the responsible physician – who returns the report in up to one hour in emergency cases. Operating since 2014 in São Paulo, Portal processes thousands of exams daily, more than any hospital, and offers access to quality healthcare for patients in over 900 cities in Brazil. Since January 2017, it has been accelerated by Google, selected for its "disruptive and innovative solution in digital health".

Article translated by Celen Diaz
Graduated in Modern Languages ​​and Business Translation,
with more than 10 years of experience as a Linguist.
https://portaltelemedicina.com.br/wp-content/uploads/2023/10/PhotoCredit-ImpactHubSanJose-1-300x200-1.jpg
200
300
Monica Jorge
https://portaltelemedicina.com.br/wp-content/uploads/2023/11/logo-portal-10-anos-grande-site.png
Monica Jorge
2023-10-30 17:29:16
2023-10-31 10:46:04
The United Nations and Impact Hub select Portal Telemedicina as a Global Impact Solution